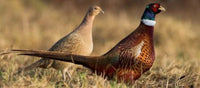 Responsibly Sourced
We are Proud to Support British Game Shooting.
All our feathers are ethically sourced from local shoots. The Feathers are a by-product from Birds which are covered in the Wildlife & Countryside Act and are obtained during the legal shooting season.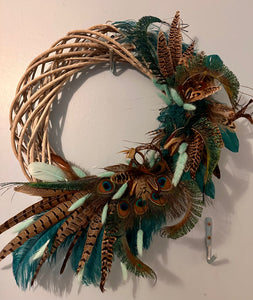 Fabulous Feather Creations
All of our Feather Pins and Feather Creations, are handcrafted using the finest feathers.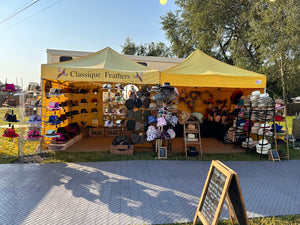 Events
Classique Feathers attend a variety of events across the country. Including The Royal Cornwall Show, Devon County Show, Royal Lancashire Show, Dorset County Show to name but a few. If you are hosting an event and would like us to attend, please do get in touch.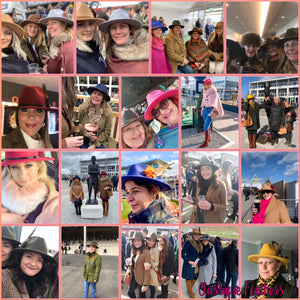 Cheltenham Festival
Some of the fabulous hats that were purchased for the Cheltenham Festival, some of these beautiful ladies even made it onto the TV.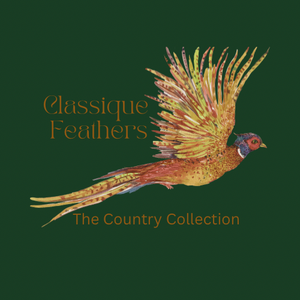 The Country Collection
Our Country Collection includes the most beautiful gifts inspired by our great British Countryside and Country Pursuits.
Here you can find Equestrian themed jewellery, Jack Pyke, Meg Hawkins Art and lots of wonderful gifts from local small businesses.
My Hat has arrived and its perfect. It matches the cape 100% thankyou so much. Your goods, response time and delivery service again is 100%, definitely will be ordering again.

Joanne Flynn
I received my parcel this morning cant believe how quick it has arrived in Australia. I love evry one of the hat pins, now I just have to decide which one to wear! Thanks for your prompt service.

Michelle Milnes
My hat arrived today, thankyou very very much. I already want more feathers, both the hat and pin are gorgeous.

Sioned Boyle
About Us
Written By Martin Puddifer for BASC Magazine
If Vicky Taylor hadn't broken her leg in 2019 what grew to become Classique Feathers may still be just a hobby. The avid shoot day lover from Belbroughton, Worcestershire, who enjoyed a varied 25-year career in operations management prior to setting up her own business, has always liked making things, but it wasn't until she was housebound for six weeks with a broken leg that she began to view her crafting skills in a different light - with a little help from her local shoot.  
"I broke my leg on the Monday and we'd been shooting the previous Saturday," Vicky explains. "Luckily, I'd brought some feathers home and started making hat pins and brooches, posting images of them online."
Vicky continued making things even after she was back on her feet and it was soon obvious that her priorities were changing. Interest in her work grew steadily; it wasn't long before her friends became her first paid customers. Following their encouragement, Vicky attended a race meeting at Warwick Races and After being "overwhelmed" by the response she received there, Vicky then began to exhibit her collection at local country shows and she decided to go into business for herself and Classique Feathers was born.   
"I had no grand plans for Classique Feathers when I started," Vicky explains, "but I did have ambitions to exhibit at the Game Fair and see my hats on tv being worn at the Cheltenham festival I did both during my first full year's trading after lockdown. 
One of the most striking aspects of Vicky's work, and a main source of her customers' admiration, is that no item is ever the same. 
"I don't design or draw anything beforehand. I just pick the feathers as I go," Vicky explains. "I don't even have a plan in my head, I just look at some feathers and decide how I'm going to pair them up."
While Vicky has no formal training, she is blessed with a creative eye and near-instant access to a kaleidoscope of feathers she collects up during the shooting season, even plucking 100 birds a week herself. Waste is an absolute no-no and every effort is made to use as many feathers as possible, not least because of their raw beauty.  "It's the colours," Vicky explains. "Until you actually look at a bird close up you don't realise how many different colours game birds have. A shoot I visit in the Cotswolds has the most beautiful pheasants that I have ever seen - Japanese Greens, Melanistics, Reeves - and some of the colours are just mind-blowing. There is no such thing as a poor-quality feather. I will wash anything with a mark on it and curl those feathers which might have parts missing." 
You can find her and her mother Sandra at major country shows during the summer, with the winter months reserved for commissions, often for small businesses and online sales. Classique Feathers' range has grown to include a vast array of country home decor, with products shipped to an international client base. Last December, the inaugural Country Girls UK ball featured Vicky's table centrepieces and she also donates a wreath to a different shooting pub near home each season.  
Chester Races

Claire is wearing one of our fabulous fascinators
A Display of our Wonderful Creations at The Shire Horse Show

Our Hats are all Unisex
Feather Pictures

Handcrafted Pictures made with Game Bird Feathers
Our Fox Red Labrador Hugo

Showing one of our fabulous feather wreaths
Cheltenham October Meeting

Our Beautiful Wool Fedoras with Feather Pins
Some of Our Fabulous Creations Shown Here

Bespoke Fedora Hat with Swarovski Crystals on the Hat & Feathers
Chester Races
Claire is wearing one of our fabulous fascinators
A Display of our Wonderful Creations at The Shire Horse Show
Our Hats are all Unisex
Feather Pictures
Handcrafted Pictures made with Game Bird Feathers
Our Fox Red Labrador Hugo
Showing one of our fabulous feather wreaths
Cheltenham October Meeting
Our Beautiful Wool Fedoras with Feather Pins
Some of Our Fabulous Creations Shown Here
Bespoke Fedora Hat with Swarovski Crystals on the Hat & Feathers